---
Martie Smith – Owner/Sales Manager
Martie created  Smith Sound in 1986.
With his passion for technique and ever-changing technology, Martie decided to open up Smith Sound to the entertainment industry and corporate event . The diversity of the industry , lets Smith Sound offer various levels of equipment but always with a high-quality standard.
Martie's outgoing nature and energy, pushes him to work for a variety of events in Vancouver and the lower mainland. He has supplied the production for 5 election campaigns, various cultural happenings and music festivals around Vancouver
---
Apres plus d'une dizaine d'année comme Ingénieur du son pour différents groupes de musique  ,Martie créa sa compagnie
Smith Sound en 1966 .
Passionné par la technique et son développement, il décide d'orienter sa compagnie dans l'industrie du divertissement et du corporatif .agrandissant celle ci régulièrement avec des investissements importants et réguliers de matériel  les plus contemporains
Son relationnel et son énergie  ,permettent  a Martie de travailler avec différentes compagnies événementielles a Vancouver et lower  mainland . Smith Sound a été en charge de 5 campagnes électorales , évènements culturel  ,  meeting politique ,sport ,festival de musique
Xavier Berbudeau – Senior Project Manager/Lead Audio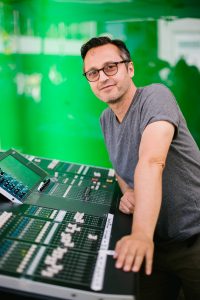 After a two-year world tour, within 5 continents, Xavier has worked over 10 years as freelancer for several audio companies, live music events,musicals, radio, recording studios and corporate events in different countries.
He has been in charge of different areas, such as, lead audio, stage manager, production executive and technical director. These various roles has given him a global vision and understanding of any role that is presented to him.
These experiences has given him the expertise to work on a variety of events: Technical Director for the Royal visit of Prince William and Princess Kate in Whitehorse 2016, the Vancouver Summer French festival, the visit of the Filipino president and various music festivals in an around The Lower Mainland.
He joined the Smith Sound team in 2015, as Senior Project Manager and Lead Audio.
---
Après un tour du monde de 2ans sur cinq continents, Xavier Berbudeau a travaillé plus d'une dizaine d'années comme free-lance pour diverses Compagnies Audio, Live music, Music-Hall, Radio Enregistrement studio, Evènements corporatifs    dans diffèrent pays.
Il occupa différentes fonctions, travaillant comme, ingénieur du son, stage manageur, production, directeur technique, lui permettant de maitriser la totalite de l'organisation d'un évènement
Cette expérience lui a permit de travailler sur des évènements d'importance, comme directeur technique lors  la Royale visite du Prince William et de la Princesse Kate en
Septembre 2016 a Whitehorse, le Festival d'Eté Francophone, la venue du président des Philippine au Centre des Conventions de Vancouver et autres Festivals de musique.
Il intègre l'équipe de Smith Sound en 2015 comme Directeur Technique et Ingénieur du son Senior.
.